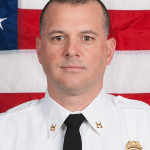 John Trottman grew up on Northern Virginia just outside of Washington, D.C.  When he was 16 he joined the local volunteer fire department and rose through the ranks of Assistant Chief.  In 1995, John was hired as a federal fire fighter in Warrenton Virginia.  In 2000, he became a fire fighter at Fort Meade, Md.
In March, 2001, the Army implemented a program in the National Capital Region to create Critical Incident Stress Management Teams that would respond to incidents on military installations.  John received training in Community Crisis Response, Critical Incident Stress Management, Suicide Intervention, Peer Support, Line of Duty Deaths, and Mental Health Response to WMD Incidents.  John joined the National Organization for Victims Assistance (NOVA) and participated in several crisis responses in the D.C. metropolitan area following 9-11.  Additionally, he responded to Florida after Hurricane Francis and remained there during Hurricane Jean.  He also responded to the Mississippi Gulf Coast following Hurricane Katrina, where he served as regional coordinator for NOVA's crisis response teams.
In March, 2002, John met Lisa Orloff and offered his assistance to September Space, a community center for first responders, victims, and survivors of 9-11.  He participated in numerous activities and events with the organization as a crisis counselor.  As September Space evolved into World Cares Center (WCC), John took on a more advisory role and helped develop and evaluate WCC's Leading and Managing Volunteers in a Disaster program.  John has co-facilitated this program across the United States and internationally to CERT teams, emergency responders, and OEM managers.
John currently serves as a Captain in the Fort Meade Fire and Emergency Services Fire Prevention Division.  He is nationally certified as a Fire Protection Specialist, Fire Officer IV, and Fire Instructor III.  He has an Associates of Sciences degree in Fire Science Administration.