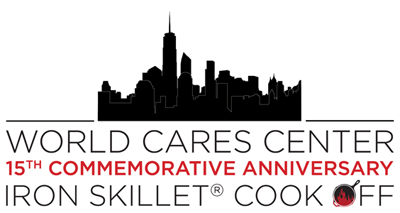 By Carla Anderson, Iron Skillet Cook Off Volunteer
Across the five boroughs of New York City, talented chefs are sharpening their knives and perfecting their recipes for the 2016 Iron Skillet Cook Off, which will be held on September 19th at the historic Federal Hall National Memorial.
The World Cares Center's Iron Skillet Cook Off is a culinary competition which celebrates the spirit of cooperation between first responders and community volunteers during times of crisis. For this year's competition, five firehouse chefs will team up with five renowned restaurant chefs and battle for the Iron Skillet with innovative and unique recipes that showcase their talent. To add to the evening's festivities, Brooklyn Brewery has bottled the World Cares Center's 15th Commemorative Anniversary Iron Skillet Cook Off Belgian Style Ale exclusively for this event. While sampling the delicious creations of the chef teams, guests will also be treated to a signature cocktail using Tito's Handmade Vodka and Sugar in the Raw, created by expert mixologist Mike DiTota of Sweet.
Competing Chef Teams:
Team Bronx sponsored by Newmark Grubb Frank & Knight
Chef Michele Iuliano of Luzzo's & Chef Jimmy Lowe from Rescue 3
Recipe: ParmAvocado
Team Brooklyn sponsored by Brooklyn Brewery
Chef Alphonse Lanza of Barclays Center & Chef Joe Russo, Lieutenant Engine 247
Recipe: Black Chocolate Stout Braised Short Ribs
Team Manhattan sponsored by Chubb
Chef Jeff Haskell of Trademark & Chef Tom Peccia from Ladder 2
Recipe: Spicy Thai Chicken Won Tacos
Team Queens sponsored by Tito's Handmade Vodka
Chef Chad Brown of Hunt & Fish Club & Chef Joseph Chiodi from Engine 262
Recipe: Grilled Mahi Mahi, Crab & Corn Salsa, Avocado Mousse, and Cilantro-Lime Pineapple Rice
Team Staten Island sponsored by Sugar in the Raw
Chef Susan Burdian of Superfine & Chef Rocco Berardi from Engine 165
Recipe: Cherry BBQ Duckwalker
Celebrity judges and hundreds of guests will crown the winning team during an evening of philanthropy, food, and fun at the Federal Hall National Memorial. The Iron Skillet Cook Off is more than a cooking competition. This exciting contest is the signature event for World Cares Center, raising awareness, funds, and support for its critical mission of training, preparing, and deploying volunteers during times of crisis.
For more information about the Iron Skillet Cook Off, please visit the website here.
Follow the chefs and get event news on our Facebook page here.
Follow us on Twitter: @wccironskillet
World Cares Center's mission is to empower communities to prepare for, respond to, and recover from disasters through training, support, and coordination. To learn more about trainings and other events, please visit the World Cares Center website.