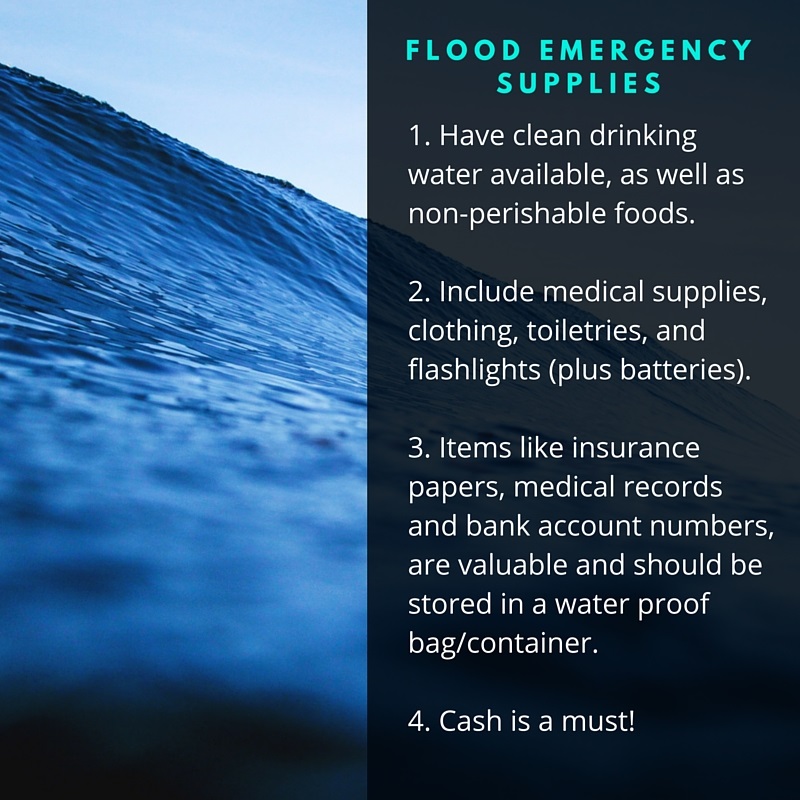 By Abby Manz, World Cares Center Volunteer
How many of you have fallen victim to the phrase: "That won't happen to me."? Whether you're talking about the exciting possibility of running into a celebrity, or the tragic likelihood of getting into a car accident, we have all at one time or another, faced the fact that the unexpected happens. It is nearly impossible (and let's be honest, not the most exciting way to live), to be totally prepared for every what-if scenario. But when it comes to flood preparedness, there are steps we can take to ensure the safety of ourselves and our families, and help limit the damage to our homes and livelihoods.
Here are some tips to help you better prepare for a flood:
Stay informed
Knowing when hurricane season is, and when there are flood warnings are the first steps to being prepared. The National Oceanic and Atmospheric Administration (NOAA) is a great resource for understanding when and where floods are likely to happen. Your local news stations and weather channels will also provide pertinent information that can help you react to potential threats in a timely manner.
Gather together supplies
We all have that quirky friend who is overly prepared for every possible disaster, real or imaginary. They have a big black rucksack in their basement and they call it their "Zombie Apocalypse" bag. No matter how over the top that may seem, it is still very practical and responsible to have some sort of emergency supply kit available, just in case.
Make sure to include these few things and you should be well on your way to being prepared in an emergency:
Have clean drinking water available, as well as non-perishable foods.
Include medical supplies, clothing, toiletries, and flashlights and batteries.
Items like insurance papers, medical records and bank account numbers, are valuable and should be included so as to protect them from being damaged. Store them in a waterproof container or bag.
Cash is a must!
Plan for an evacuation
Learn about the evacuation routes in your area and know which ones will take you to higher ground, the safest place to be during a flood. If you have a family, pets, or others in your care, it may even be wise to practice the route once or twice.
Protect your property
Finally, learn how to protect your property and belongings, before, during and after a flood. Even if you do not need to evacuate your home, it is important to prepare your house for the possibility of flooding. Some simple precautions include, making sure you have clean gutters and drainage systems, fixing any foundational cracks in your house, and compiling a list of your possessions and their value.
World Cares Center's mission is to empower communities to prepare for, respond to, and recover from disasters through training, support, and coordination. To learn more about trainings and other events please visit the World Cares Center's website.