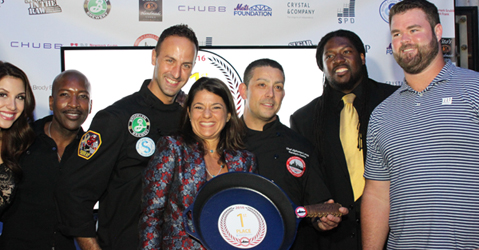 by Amie Cangelosi, World Cares Center Volunteer
The moment I walked into the Federal Hall National Memorial for Monday's Iron Skillet Cook Off, I knew it was going to be a special evening. From the white marble floors to the grand columns to the marker in the corner where George Washington took his oath of office, the building is steeped in tradition and provided the perfect setting to commemorate World Cares Center's 15th anniversary.
The Iron Skillet Cook Off was started after 9/11 when a firefighter suggested that instead of a "thank you" event, World Cares Center hold a cook off for them to compete against the restaurant chefs who had been feeding them during the relief effort. For the first time this year, that format of firefighters vs. chefs was changed up with firefighters and chefs paired together as teammates, competing New York City borough-against-borough. I couldn't imagine a more fitting way to celebrate the spirit of cooperation between first responders and community volunteers that's so central to World Cares Center's mission.
World Cares Center Founder & President Lisa Orloff and emcee Sukanya Krishnan of PIX11 News kicked off the evening with an inspirational welcome and introduction of judges: FOX 411 host Diana Falzone, former Washington Redskin Thomas Huff, Fox 5 news co-anchor Antwan Lewis, PIX11 News co-anchor Lisa Mateo, former New York Jet Freeman McNeil, and current New York Giants Adam Gettis and Shane McDermott. Although typically known around New York for their celebrity status, all eyes were on this group tonight because they were casting the vote for the Iron Skillet Cook Off winners!
Once the competition was underway, I could feel the excitement in the room as over 300 guests lined up to taste each team's dish, buzzing about which was their favorite while mingling with old friends and exploring the iconic venue. Everyone also enjoyed pairing the dishes with the official Iron Skillet Cook Off Belgian Style Ale bottled by Brooklyn Brewery and sipping the signature cocktail Lolita made with Tito's Handmade Vodka and Sugar In The Raw.
Once the judges made their decision, the following teams were crowned as winners:
1st Place: Team Brooklyn – sponsored by Brooklyn Brewery
Chef Alphonse Lanza, Barclay's Center and Lt. Joe Russo, Engine 247
Dish: Braised beef short rib with creamy honey polenta and citrus gremolata with pears
2nd Place: Team Manhattan – sponsored by Chubb
Chef Jeff Haskell, Trademark Taste & Grind and Firefighter Tom Peccia, Ladder 2
Dish: Spicy Thai Chicken Won Tacos
3rd Place: Team Bronx – sponsored by Newmark Grubb Knight Frank
Chef Michele Iuliano, Luzzo's Pizzeria and Firefighter Jimmy Lowe, Rescue 3
Dish: ParmAvocado
As a first-time volunteer at the Iron Skillet Cook Off, I was impressed to watch the team of staff and volunteers (including an amazing group from Con Edison) rally to pull the event together. Even more impressive was seeing the room full of guests and sponsors – particularly platinum sponsors Brooklyn Brewery, Chubb, Newmark Grubb Knight Frank, Sugar In The Raw, and Tito's Handmade Vodka – come together on this night to so generously support World Cares Center's mission of empowering communities through disaster response training, support, and coordination. It truly was a special evening of food, fun, and philanthropy!
---
If you missed the event but would still like to support World Cares Center's mission, please consider a donation. If you're interested in becoming involved as a Ready Responder, please join our new online community at ReadyResponders.org. Check our social media for pictures of the event and tag us in your own event pictures if you'd like them shared by World Cares Center!