From Adversaries to Teammates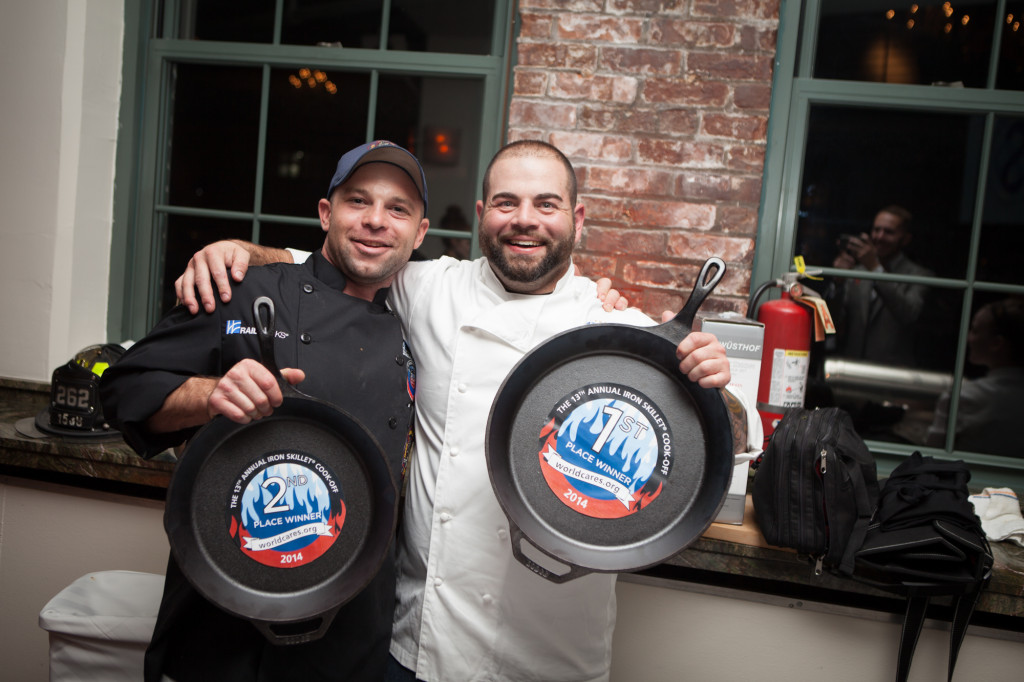 In previous Iron Skillet Cook Offs, Firehouse Chefs went head-to-head with Restaurant Chefs as they battled against each other for the Iron Skillet award. This year, as we mark the 15th anniversary of the 9-11 attacks, and the incredible collaboration between volunteers and first responders, we have turned the tables and teamed up the competitors! Firehouse chefs will now join forces with restaurant chefs and return as a team for the 2016 Iron Skillet Cook Off!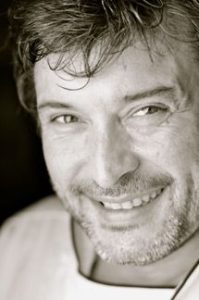 Chef Michele Iuliano
Michele Iuliano is owner and Executive Chef of Luzzo's Group, a family of Southern Italian restaurants. The group began with the flagship restaurant Luzzo's in the East Village and has grown to include Ovest Pizzotecca in Chelsea and TriBeCa's Da Mikele in Tribeca. Trained in Naples, Italy, Iuliano has a passion for creating delicious pizza and homemade bread. His restaurants have a loyal group of fans and New York Magazine calls him one of "the biggest players" in the city, for his unique Neapolitan style pizza.
Restaurant: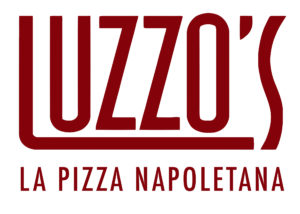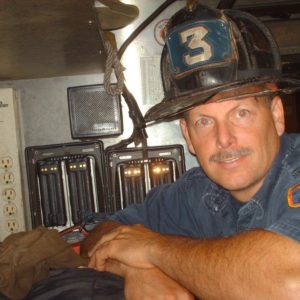 Firefighter James (Jimmy) Lowe
James (Jimmy) Lowe from Rescue 3 in the Bronx is a Long Island native embarking on his third Iron Skillet Cook Off. In 2008, he was with Ladder 33 and won with his flank steak pinwheels. He also competed in 2011. This year, he hopes to secure another Iron Skillet win to add to his many cooking accomplishments. A self-trained chef, Jimmy is known for his superb knife skills, and considers a sharp cooking knife to be his best tool. He enjoys feeding a crowd, whether it's the firehouse or a family gathering.
Firehouse Patch: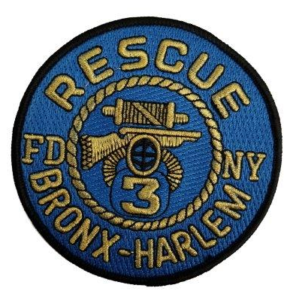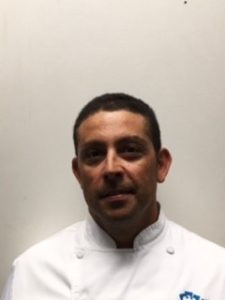 Chef Alphonse Lanza
Alphonse Lanza is Executive Chef at the Barclays Center/Levy Restaurants, serving up a diverse variety of food and flavors for a vibrant community in the home of the NY Islanders and Brooklyn Nets. His extensive experience includes Corporate Executive Chef for the Compass Group North America, Hilton Hotels Worldwide, and Renaissance Hotels.
Restaurant: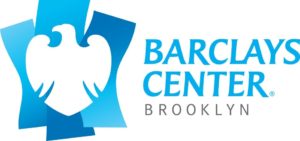 Firefighter Joe Russo
Joe Russo, lieutenant with Engine 247 Brooklyn. Joe is a seasoned chef and competitor. He was a contestant on Fox's Master Chef 2016. Joe also competed in the 2012 Iron Skillet, and shortly after, he saw firsthand the work of WCC when Super Storm Sandy hit and World Cares center sprang into action. Since then, he has been an avid supporter of both the organization and the Iron Skillet Cook Off.
Firehouse Patch: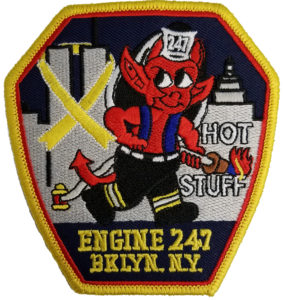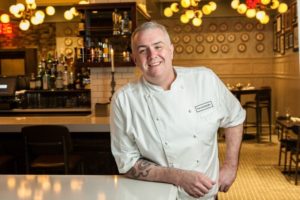 Chef Jeff Haskell
Jeff Haskel is Executive Chef at In Good Company Hospitality Group. He leads the kitchen at Parker & Quinn, the signature restaurant at the Refinery Hotel in the Fashion District. Chef Haskel hails from New Hampshire. He is known for his straightforward and rustic approach and his reliance on high quality and locally sourced ingredients. He is a former winner of Food Network's Iron Chef America.
Restaurant: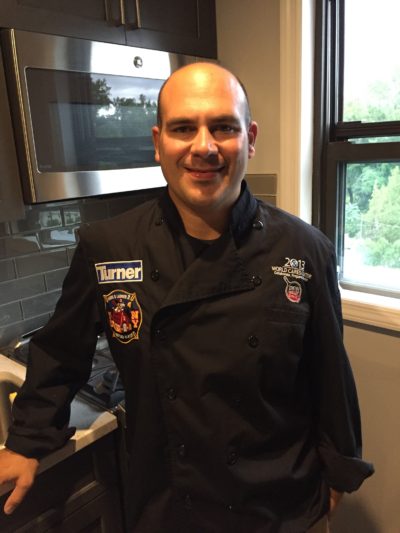 Firefighter Tom Peccia
Tom Peccia of Ladder 2 in Manhattan has been an NYC firefighter for more than 12 years. His love of cooking began young when he would help his hard-working mom prepare meals. Tom is no stranger to the Iron Skillet Cook Off. He competed in 2014, and in 2010 he placed 2nd overall. He lives in Great Neck, NY with his wife Tracy, and their dog Olli. Tom hopes to own a food truck when he retires from the FDNY. Tom especially enjoys cooking foods that have an Asian flair.
Firehouse Patch: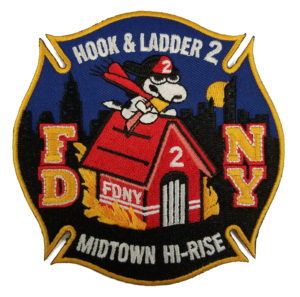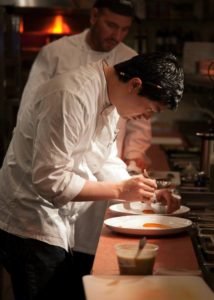 Chef Chad Brown
Chef Chad Brown is Executive Chef of the Hunt & Fish Club in Midtown Manhattan. He is known not only for his culinary chops, but also for his eclectic background and sense of humor. A truly self-made chef, he made his way up the ranks, eventually opening Catch, a contemporary seafood restaurant and recently worked as executive Chef at Davio's in Manhattan.
Restaurant: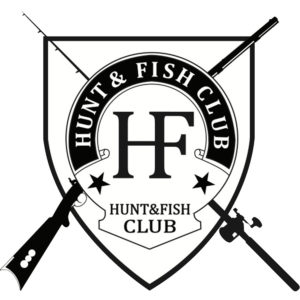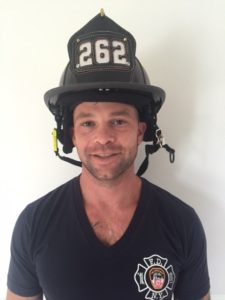 Firefighter Joseph Chiodi
Joseph Chiodi, from Engine 262 in Queens, is no stranger to high stakes cooking competitions. Not only has he competed in the iron Skillet Cook Off several times, but he won the 2015 Daily news Five Alarm Cook Off and dazzled Rachel Ray with his chicken sandwich.
Firehouse Patch: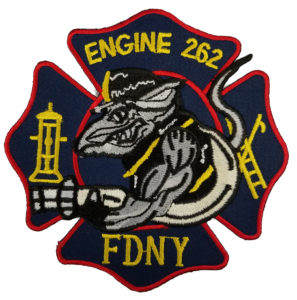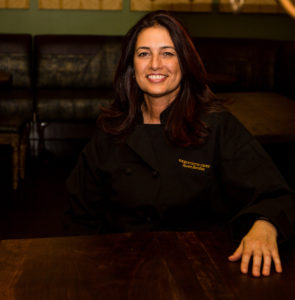 Chef Susan Burdian
Chef Susan Burdian, is Executive Chef of Superfine; an iconic Brooklyn restaurant in the buzz-worthy neighborhood of DUMBO. She is a native New Yorker and a graduate of the Natural Gourmet Institute. Over the past decade, she has cooked all over the New York metro area, learning and absorbing the nuances of diverse cuisines. She has a unique cooking personality, which she describes as American Classics – meets – American Melting Pot, or Contemporary American comfort food delivered with a uniquely New York attitude. In 2014, Susan competed against firefighter Rocco Berardi in the Iron Skillet Cook Off.
Restaurant: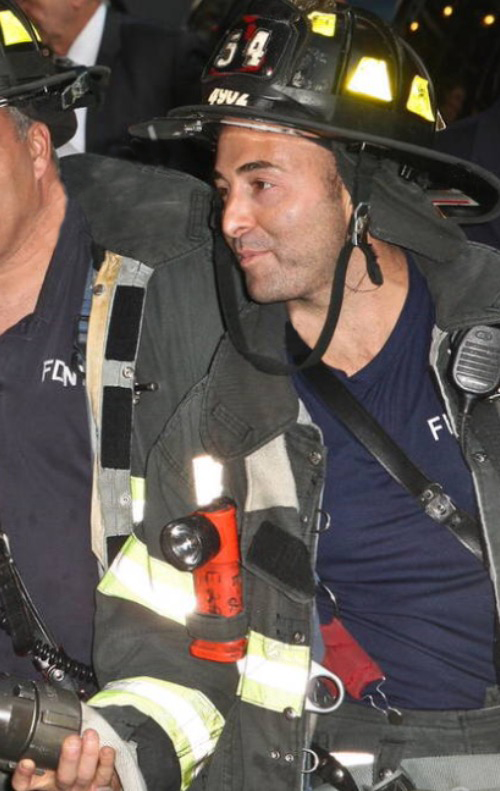 Firefighter Rocco Berardi
Born and raised in Staten Island, eleven-year veteran fireman Rocco Berardi has been with Engine 165 in Staten Island for one year. Firemen run in Rocco's family—his 82-year-old Uncle Tony is a retired fireman of 20 years. Another family trend is cooking great food—both Rocco's parents and his uncle owned pizzerias, his wife was a U.S. Army Chef, and he holds a degree in Hotel/Restaurant management from Saint John's University. Rocco describes his cooking flair as "eccentric," and his friends say they never know what they're going to get in Rocco's kitchen. Rocco is fluent in Italian and enjoys running, although his favorite hobby is drinking beer (he's even dabbled in home brewing). Rocco witnessed first-hand the destruction of Superstorm Sandy. Rocco lives with his wife, Lisa, daughter, Etra, Uncle Tony, and their pet dog.
Firehouse Patch: