From Adversaries to Teammates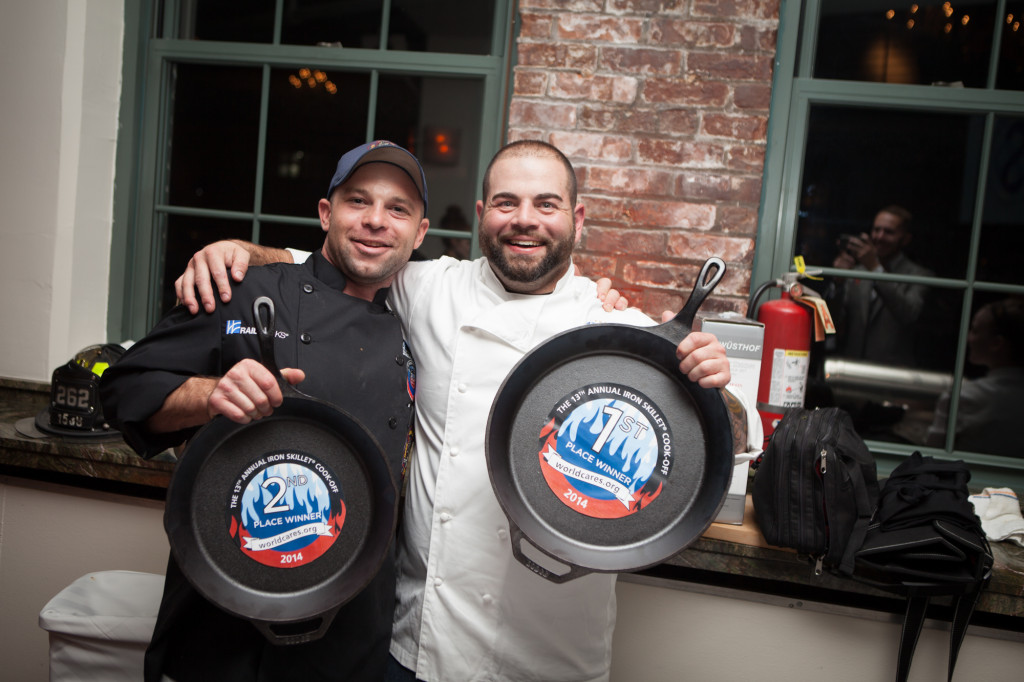 In previous Iron Skillet Cook Offs, Firehouse Chefs went head-to-head with Restaurant Chefs as they battled against each other for the Iron Skillet award. This year, as we mark the 16th anniversary of the 9-11 attacks, and the incredible collaboration between volunteers and first responders, we have turned the tables and teamed up the competitors! Firehouse chefs will now join forces with restaurant chefs and return as a team for the 2017 Iron Skillet Cook Off!
Scott Worontzoff

Scott graduated from SUNY Cobleskill in 1990 with an Associate's degree in Professional Chef. From 1991 to 2002, he worked in the culinary field at a number of restaurants holding various positions including; Commis De Cusine in Flims Waldhuas, Switzerland, Sous chef Monterey Seafood Grille, Comis 1 Grand Hyatt NYC, and Executive Chef Sodexho Corporate Services.

In May, 2002, Scott entered the Fire Academy for the FDNY and was assigned to Harlem's Engine 58 in July of 2002. Engine 58 averages about 6000 runs a year, one of NYC's busiest engine companies. He has received two unit citations and active member of the FDNY's Incident Management Team holding the position of Food Unit Leader.

Chef Melech C. Castillo, Megu

Chef Melech C. Castillo was born in 1990 in Augsburg Germany to a Haitian mother and Puerto Rican father. At the age of two Chef Melech moved from overseas to Fort Hood, Texas with the family. Lived in the city of Harker Heights, TX until about the age of 5. Relocated to Orlando FL in 1996 and grew up Lake Mary, one of the suburbs of the greater Orlando area. Cooking was one of Chef Melech's passions. Growing up in a multi-cultural environment exposed him to a variety of culinary styles. As a teenager, Chef Melech started working in the fast food industry. While in high school he would have dinner parties and bake cakes for family and friends. Graduated from Lake Mary High school, attended Seminole Community College with the intention of majoring in Culinary Management but soon realized the Culinary Arts major was more fitting to the vision he had for his professional journey. While studying, Chef Melech worked as a dishwasher at a local Italian restaurant and soon after was promoted to the prep station. After being exposed to a real kitchen Chef Melech decided to attend Le Cordon Blue in Orlando, FL. While attending culinary school, Chef Melech landed a paid externship at Buca Di Beppo in Maitland FL. One of Chef Melech's dream was to move up north and become a Chef in NYC. At twenty-one years of age Chef Melech left home and ventured up north to start his adult and professional journey. After graduating from Le Cordon Blue, Chef Melech had the opportunity and was offered a position at Cotto, a new Roman, Italian style restaurant in Stanford, Connecticut. Chef Melech, worked at Cotto for a year, learned and had a great experience but felt NYC calling for yet another great experience. In the city, Chef Melech joined Buca Di Bepo in Time Square, worked under top chefs at the well-known restaurant, Oceana. At Catch on 14th and 9th Chef Melech, worked under Chef Hung Huynh top chef, and now is working as a Sous Chef at Megu under Chef Francis Tariga. Cooks for celebrities, charity groups, large private parties and promotional groups. Recently Chef Melech, joined Chef Tariga at the James Beard Foundation event.

Bobby Wolmart

Bobby Wolmart is a 27 year-old Cuban and Puerto Rican firefighter in The Bronx, working out of Ladder 47. He has 4-5 years of experience in private dining as well as bartender experience. His favorite meal to cook is breakfast. When he is not protecting Bronx residents, he spends his time working on photography projects and exercise and wellness. His goal in the next 2-3 years is to travel as much as possible, photograph everything and try a bunch of cuisines. Bobby really enjoys participating in charitable events and giving back and works with a chef to cook for the needy at a church in the city whenever his schedule allows him.

Chef Nick Gaube, Quality Italian

Growing up, Nick Gaube was inspired by the effort and care his paternal grandmother took in preparing elaborate family meals.  He saw how she enjoyed sharing what she made with her friends and relatives and grew his interest in cooking by helping her prepare the feasts.  When family friends opened an organic farm and restaurant, Nick took a position cooking with them at the Still River Café in Woodstock, CT.  In his time there, he appreciated the locally sourced, home grown produce and the New England seasonal cuisine they made.  His next step was to become a cook at a bustling restaurant in Newport, RI, where tourists descended in droves and Nick was able to learn how to set up a kitchen to prepare food for larger crowds and gain a knowledge of how a busy kitchen functions.

These experiences led him to enroll in the Culinary Institute of American, where he graduated with an associate's degree and a bachelor's degree in hospitality management.  He did his externship at Larkspur in Vail, CO and enjoyed working with their farm in the warmer months and a greenhouse that kept the restaurant in local produce in the winter.  After graduation, Nick joined the team at Park Avenue as a line cook.  He was quickly promoted to sous chef at Quality Meats and then moved to Quality Italian for the opening and was named executive chef in 2016.  Nick distinguishes himself in the kitchen as a calm, confident leader and what he enjoys most about his role is something he grandmother could relate to: taking pride in guests enjoying great food that he prepared.

Walter Lewis

Walter Lewis was born 1971 in Brooklyn, where he grew in the same neighborhood as Rapper Jay Z and attended the same Intermediate School 318. Afterwards, he attended Specialized High School John Dewey were he participated in Cooperative Education Program, which afforded him an opportunity to obtain an entry level position in the investment bank, Credit Suisse First Boston. He continued to work at CSFBC while obtaining his Undergraduate education from Brooklyn College. At CSFBC, Walter advanced from Accounting clerk, Jr. Analyst, Analyst, then finally to the position of Month End Controller. After 14 years of service at CSFBC, Walter decided to do his part to give back to his community and fulfill one of his childhood dreams: He had always wanted to become a firefighter. In 2003, Walter was sworn in at the FDNY.

Walter has a passion for food and the culinary arts. His family and parents inspired and helped cultivate his skills to cook with Southern, Latin and Caribbean influences. He developed a love for the food and a respect for the different culinary techniques required to create them.

He enjoys being a Firefighter and getting a chance to cook every time he goes to work. His specialty is Caribbean influenced fusion dishes.

According to Walter, "The best aspect about cooking is it touches people on so many levels. The result of your labor, if done right, provides nourishment, promotes health and healing and heightens the senses, mind body and soul.Let food be thy medicine and medicine be thy food. – Hippocrates"

Chef Vincent Caprio, Compass Group / FLICK Hospitality

In the Culinary Industry for 27 years with schooling and experience. Also works in 4 star restaurants such as Bouley, with David Bouley and 5 star hotels, Essex House Hotel, wih Christian Delvoive, Restaurant Associates, Ed Brown and Marc Scheuer and priveleged to work with the best Chef in the industry. Also worked with British Airways in their finest lounges for the first class customers and also a vast knowledge of kosher catering with companies such as Prestige, Morrell, Foremost , Ram and Catering BY Andrew and Leddermann Caterers and was involved in Passover's and overseen the AIPAC convention in Boston for 1400 people.

Yaniv Amar

Yaniv Amar, 34, has worked for the FDNY for 15 years: as an EMT for 4 years and a fire fighter for 10. He holds the honor of being a member of United States Marines, from which he recently retired, after serving for 11 years. He was deployed to Iraq once during my time in the 6th Comm. Batt. Brooklyn, NY. He currently works at Engine 246 in Brooklyn, sharing the house with Ladder 169. While he always had a passion for cooking, joining the Fire Department allowed him to hone his skills working with professional and home cooks in the firehouse.

Chef Michael Ayoub, Fornino

Fornino was established in 2004, but the man behind the food, Michael Ayoub, is an industry veteran, having opened his first restaurant in 1977. Ayoub was the first ever Brooklyn chef to be reviewed by the New York Times and is hailed as the man who brought grilled pizza to the borough. Not only culinarily artistic, Ayoub has also personally handblown the light fixtures inside each of our restaurants as well.

Rudy Seddio

Rudy Seddio is a 35-year old firefighter from Staten Island, NY. He has been married to Bridget for eight years, and they have two children: Rudy (6) and Arya (2). Rudy Joined the FDNY in 2008 as an EMT and was promoted to firefighter in 2013. He is assigned to Engine 161 ("Beach Boys") on Staten Island. When he is not saving lives, he enjoys cooking in the firehouse and at home with his family.

Chef Robert Painter, Fired Up Chef

Robert Painter is an active member of the FDNY, and cook some amazingly creative food.  He has a passion for showing off his culinary talent, which is evidenced by all of his contest wins, and TV appearances (9 national TV appearances, and 4 regional contest wins between the two). He has a penchant for getting on shows like CHOPPED, 24 HOUR RESTAURANT BATTLE, and the RACHAEL RAY SHOW.  If you've seen some of these appearances,  you'll agree that it makes for some great (and very funny) TV.

FIRED UP CHEFs spend lots of time in the kitchen experimenting, tasting and perfecting their techniques.  Neither is traditionally trained in the culinary arts, which makes for a more colorful, and unorthodox cooking experience. Just one taste of their culinary creations will make you a believer.