WORLD CARES CENTER'S MISSION
World Cares Center's mission is to reduce the harm, suffering, and loss caused by disasters through the empowerment of underserved, low income, at-risk communities to prevent everyday accidents and react as educated and skilled ready responders when disaster occur.
WCC believes that resiliency is best promoted when all facets of communities are prepared to respond to disasters together to mitigate their inherent risks, thereby reducing human and economic loss and suffering.
"World Cares Center offers a [powerful disaster volunteer management and response tool kit that delivers planning, training and deployment support in critical areas such as management, safety and resiliency, and skills based training. It is a much-needed resource that will truly benefit a variety of organizations, particularly those focused on disaster relief."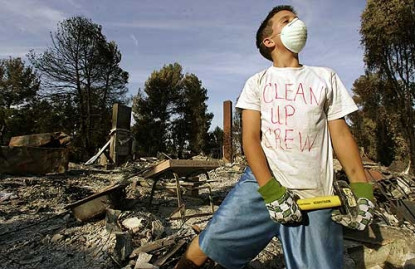 Communities build resiliency from the ground up.  The trusted and established relationships within neighborhoods are the most powerful and important tools a community can have when responding to crisis.
World Cares Center provides a structure for communities to build all the parts of resilience. Through the application of lessons learned in response and proven disaster management methods communities build resilient infrastructure that meets the demands of any challenges.
By providing training and support to communities to build a solid disaster management foundation to self-organize for resiliency, we there by facilitate a speedy, collaborative, recovery and restoration in the long term.
What Can World Cares Center Offer You?
FREQUENTLY ASKED QUESTIONS
Click the bullet points below to learn more.
What is the mission of World Cares Center?
World Cares Center's (WCC) purpose is to support and protect underserved, high-risk and often disproportionately affected communities and their good citizens who step away from the comfort of their everyday lives to help others during times of disaster and crisis. WCC ensures that these constituents are prepared, protected and matched with organizations that are ready, willing, and able to receive them. Through training, support, coordination, WCC empowers these disconnected communities to safely prepare for, respond to and recover from disasters and crisis, training thousands of good citizens, community leaders and not-for-profit groups to work together during catastrophic times. WCC believes that resiliency is best promoted when communities are prepared to respond to disaster and taught to mitigate the risks that encircle them
How does World Cares Center work?
WorldCares.org is an easy to use web portal that's accessible to anyone with an internet connection. Once a user has registered on the site, they can return anytime and as often as they like at no charge. This online resource provides disaster responders with free access to state of the art e-learning courses and other training tools designed by experts in staff development and humanitarian action.
What type of training courses are available?
WorldCares.org offers a wide and growing library of cutting-edge elearning courses and other relevant resources on critical topics such as Humanitarianism, Program/Operations, Protection, Staff Welfare, Management & Leadership, Staff Safety & Security, and Soft Skills. Register or login now to view the complete library.
What's the need or gap that World Cares Center is trying to address?
Underserved, low-income communities are placed at the highest risk when it comes to disaster, as disasters have proven to have the most significant impact on marginalized populations. Access to resources like food and basic emergency services become scarce when a disaster hits, and for many low-income areas, who often endure the hardest impact, these basic necessities become unattainable due to post-disaster societal-setbacks. In addition, local emergency management may not have all the supportive resources required to meet the needs of constituents. Disasters that have occurred in the United States and abroad have often been met with an outpouring of voluntary support from those within impacted communities as well as visiting volunteers, who are often turned away by emergency management teams, as they are often uninformed of the hazards that exist in disaster response and the existing safety measures to mitigate them. World Cares Center ensures that all factors in the disaster ecosystem, including spontaneous unaffiliated community volunteers, are working with the same fundamental toolbox, equipped to assist others safely and effectively and be able to communicate with one another as needed.